Appointment Name
Time of the appointment
Description of the appointment
Price for the service
Times must be in 15 minute increments. 30 or 45-minute appointments are okay but not 50 minute.
Pro Tip: Include the time in the name if you want to allow customers to see the time in the online bookings tool. Ex. "Follow-up appointment (One hour)"
Steps in our Walkthrough Setup 
Step 1 - click Add Appointment Type
Step 2 - fill in the details per this screenshot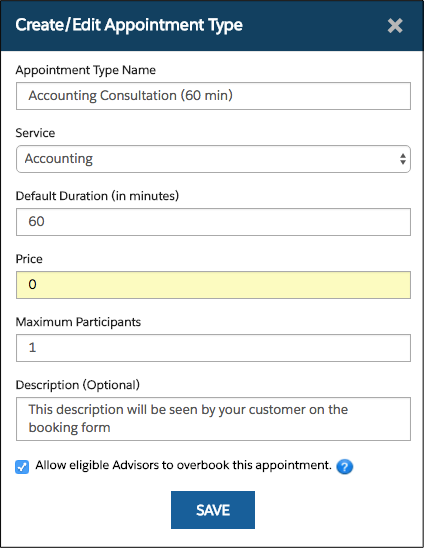 How to make Class Appointments
Class appointments are anything with greater than 1 in the Maximum Participants field.
Classes are different than regular appointment types in that they are not created by your customers.  After you create a Class Appointment Type, you must go and add the class into the Schedule Manager at whatever time and date you want to make it available.  Then, you can add customers to the appointment from the Schedule Manager and your customers can book into the Class Appointment from the Online Booking Tool.  
Note- Customers will only see the class at the time you set it up rather than being able to create it any time the resources are available like they can do with regular appointments.