Ok this may be a bit complicated for some but hey, that's Salesforce administration, right?
The next step that absolutely has to be done before you can get going is to set up at least one user as an Appointiv Administrator. That person can then go on to the next step and register the app, configure it etc. If you skip this step, your admin won't be able to make any changes in the Configure sections.
1 - In Setup, type Users in the quick search
2- Select Users under the Manage Users section.
3- Click on the user's name that you want to enable to be either an Administrator or Service Provider (or both) in Appointiv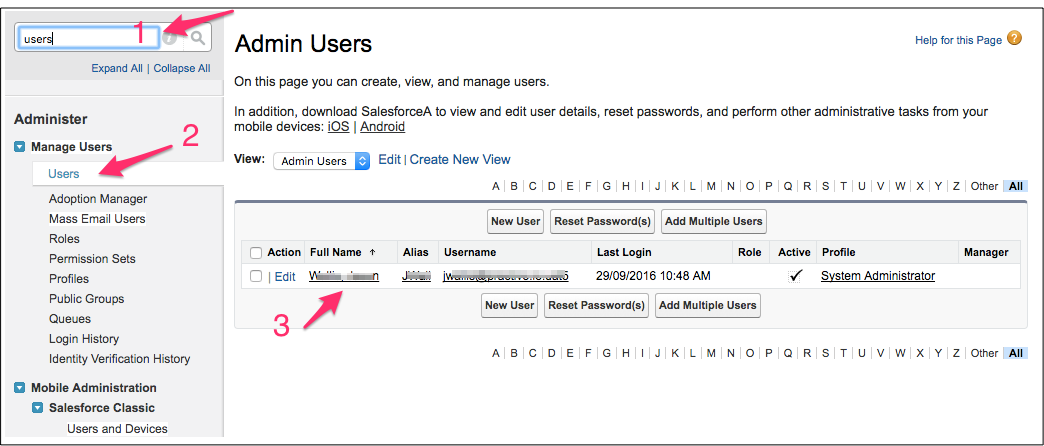 After clicking their name you will have the individual user open in Setup
4- On the user record scroll down to the related lists and in the "Permission Set Assignments" box, click "Edit Assignments"

There will be two (2) Appointiv Permission Sets to choose from.
Permission set # 1- Appointiv Administrator - Give this permission set to users who need to set up the rules about who can do what appointments, create new appointment types, change your email messaging and other administrator kind of things. Users with this permission make changes to everything in the Appointiv Configuration screens. They can create, edit, update and delete Locations, Appointment Types, Service Providers etc.
Permission set #2- Appointiv Service Provider - Give this to Salesforce Users who will be providing appointments. (You can also add non-Salesforce users as Service Providers- more on that later)
Note - Avoid SP Zombies! Appointiv automagically creates a Service Provider profile for all Salesforce Users with this permission set active when you go to the "People" tab. So, if you want to delete a Salesforce User from being a Service Provider, you have to go back to the Salesforce User Setup and remove the Appointiv Service Provider Permission Set or else they'll just keep popping up from the deleted dead like a zombie every time you go back to the People tab.
Note 2 - they still see the Configure tab - Salesforce Users with this permission set can access the Schedule Manager and change their "available times" since that page is accessible via the Appointiv Calendar tab. They can also "see" the Configure tab but they cannot save any changes on the Configuration section. The Save button is greyed out for them.
- Add Both Sets - If you have Salesforce Users who need to make changes to the configuration and be available for appointments, then give them both the Appointiv Administrator AND the Appointiv Service Provider permission sets.
Simply select the Permission Sets you want and move it to the right hand column to grant access to that user.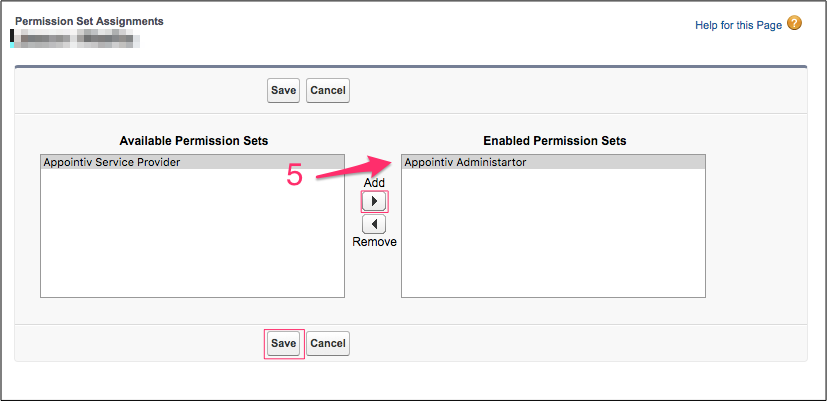 Repeat this process for all your users and you're now ready to go start Configuring Appointiv.
Please note, if you skip this step then you can't click the "Register Me" button on the Configure page because it will be greyed out.